Information about Sussex
South Downs National Park
The South Downs National Park stretches right across Sussex from Beachy Head in the East to Winchester in the west. The South Downs are only a recent member to Britain's National Parks. The South Downs only became a national park in March 2010.
This 100 mile stretch of chalky hills, lovely woodlands and beautiful countryside is home to a wide range of trees, birds, wildlife and plants and is also home to about 180,000 people.
The South Downs way is a set of foot paths that can literarily take you right along the South Downs and really allows you to enjoy the beauty this area of outstanding national beauty has to offer.
Jack and Jill Windmill's are located on the South Downs and enjoy commanding views over Sussex. You can see past Brighton to the South and Haywards Heath, Burgess Hill, Hassocks and Ditchling in the North. It's possible to see much further on a clear day. Its possible to walk past the windmills on your way to Ditchling Beacon or the historical town of Lewes. There is plenty of parking so it can be a great base for a walking based day out.
The Seven Sisters

These turf capped white cliffs are world famous. Set between Seaford and Eastbourne in East Sussex the views out to sea from them and the views of them is simply stunning. The seven sisters is the longest stretch of undeveloped coastal countryside and is well worth a visit during any holiday to Sussex.
Beachy Head
Beachy Head is to the east of the Seven Sisters and is the highest point along the Sussex Coast. The sheer drop from the chalky cliffs is over 530 feet. The views (on a clear day) are stunning. You can see Dungeoness to the east and right along to the Isle of Wight to the west. Under the cliffs you can see miles out to see and a lighthouse. Be careful not to get too close to the edge as the cliff edge can be unstable.
Brighton
The city of Brighton is a very popular tourist location.

Its seaside charm combined with a diverse culture means that Brighton has something for everyone. The famous 'Lanes' are a maze on quaint shops, cafes and craft shops. A delightful shopping experience! Just up the road is Western Road for a more traditional shopping mall and high street experience.
Brighton Pavilion and Brighton Pier are just a couple of the popular tourist attractions here. Brighton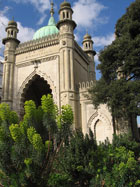 used to have two piers but one has fallen in to disrepair and following a couple of fires there is only a few twisted metal structures in the sea left. To the east of the pier there is Brighton Marina. Its' possible to spend hours walking around the shops, enjoying the cinema or a meal out in one of the many restaurants in the marina. A walk round the marina looking at the yachts and boats or watching the fishermen going about their work is a lovely way to spend a few hours.
Brighton Pavilion and gardens are a few minute's walk from the sea front. The pavilion was originally a farm house until John Nash transformed the site into the Royal Pavilion for George IV. Sold by Queen Victoria for around £50,000 it's now one of Brighton's best loved tourist attractions.
Historical Houses and Country Parks
Sussex, being so close to London has its fair share of country estates for the rich and famous over the years. When it comes to country estates you are spoiled for choice in Sussex. Petworth House was built in the 17th Century. Its' now owned by the National Trust and boast landscaping by the inspired Capability Brown in the 1800's. Queen Elizabeth Country Park is located at Buster Hill near the A3. The country park gives access to 1400 acres of wood and down land. Uppark was the first house in England to be built with its own on-site water supply. Sadly in 1989 it caught fire and was damaged. However, following 6 years of restoration it was re-opened.
Museums
The Weald and Downland Open Air Museum provides a unique insight of how historic village life was. The museum is a village that was relocated and restored to prevent it being lost to re-development. There are plenty of other museums in Sussex that are well worth a look
Night Life
If you are looking for great nightlife then seaside towns such as Brighton, Crawley and Eastbourne tend to be the locations most tourists go for. Brighton is pretty much unrivalled in terms of the diversity and culture in its night time offering.
Forts and Castles
One thing there is plenty of in Sussex and that's historical military sites. Sussex has been a key defence area since 1066 and probably before. You don't have to go far to see castles such as Arundal and Lewes to see why it was so important to defending England. Its close proximity to the English Channel means it was one of the first locations to be targeted. Locations such as Newhaven Fort are open to the public and are typical of sites that have evolved to suit the needs of each war.